Exploring new possibilities
A quick message from our Founder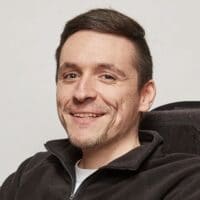 Here at ableMove, we believe in improving day-to-day living for wheelchair users. We do this by promoting greater confidence, freedom, choice and safety in everything we do.
What we do and how we do it
Ever wondered what wheelchair users go through when travelling by air?
Watch our initial 2-minute video in partnership with Flying Disabled and after explore how our range of award winning products are improving air travel for wheelchair users around the world.
Testimonals
Amanda Harnden
2023-09-12
Super service
Ivana Ivanovic
2023-07-14
Very handy to use, helps moving the person quickly, is safe, very well thought of.
geoffrey Schneiderman
2023-06-29
Very quick, efficient and friendly service. The product arrived sooner than expected and looks very good. I have not yet had the chance to try it but will hopefully do so soon.
Absolutely fine and quick deliver, the item is expensive for what it is. But when you buy anything for disability use anywhere, you pay through the nose.
Amazing service. The ableMove made transferring on and off the plane, go more smoothly that's for sure. I couldn't afford the harness, so ended up strapping myself in for safety; my trunk balance isn't good. I'll also have to ensure I have a cushion that can fit into it, for my next trip, as the pressure from the plane seats made the flight painful. A great product, and with more knowledge my next trip should be even better. Thank you
Isabelle Binet-Rochette
2022-07-22
J'ai commandé un siège de transfert sans trop savoir à quoi m'attendre. J'ai été très satisfaite du service à la clientèle qui m'a tenue au courant des étapes à partir de ma commande : les sièges étaient attendus quelques semaines plus tard à cause de délais de production. Le produit est arrivé dans les délais et en excellent état, il est bien fait et facile à utiliser. C'est cher étant donné mon paiement en dollars canadiens, mais on sait que les produits adaptés sont toujours très chers. Je suis heureuse de mon achat, on pourra l'utiliser pour les transferts lors des rendez-vous médicaux, dentaires, et aussi en extérieur dans différentes situations. Par contre mon fils ne peut pas s'appuyer sur le dossier sans tomber sur le dos, alors il ne faut pas avoir cette attente.
charlotte hawkins
2022-06-08
Fantastic product, great customer service. We can't wait to try it out. Thank you
Jade Verlander
2022-05-25
Easy to order, quick delivery and great products
Crescent Hideaway
2022-04-22
I bought an Ablemove Towel for my guests to use with our accessible hot tub. The delivery was very prompt and our guests have said that it works brilliantly. Well done Josh. Tina xx
Great quality, made life so much easier after a swim or kayaking. I lay it over my chair keeping it 100% dry. It's very comfortable and surprisingly warm. No more damp cushions. I've also used it as a picnic blanket; it's so versatile! I'm very pleased with my ableDry.
I recently purchased the ableSling for a flight. I am a wheelchair user and had avoided flying for two years due to injuries arising from manual transfers. The ableSling worked very well. The transfers were smooth and the sling eliminated the risk of injury to me. I have bought other products in the past but none have worked as well. I would strongly recommend this product and I'm now looking forward to my next flight with the ableSling.
A revolution in air travel for disabled people! I have been paralysed from the neck down for 39 years. When I was younger it was possible to lift me with just my arms and legs – this became painful over time, but now I have found the answer – unless you try it, you will not believe how fantastic it is – the ableSling is a revolution in design and technology for disabled people.
We are so pleased with our ableSling. We used it to transfer in and out of a beach wheelchair and it was so quick, easy and above all, safe. It has been in the sea and dried out perfectly – enabling our son to have a day at the beach that otherwise would have been too difficult. What a great product.
ableSling is incredible. I've used it to fly to competitions when competing for Team GB in Boccia. I can honestly say I've never been comfier on a flight. I would usually get lower back pain and increased muscle tone when flying due to the lack of seat support but not with the ableSling. I felt comfortable through all transfers. If you are indecisive about whether to invest in one, I can highly recommend it.
Latest News
ableMove Founder Josh Wintersgill recently flew to Tenerife from Bristol airport. The contradictions in Josh's experience at both airports were [...]
Manon Van Den Hueval is an ableMove ambassador, based in The Netherlands and has been using ableMove products since Josh [...]
Just back from an incredibly busy Kidz to Adultz North exhibition in Liverpool, the ableMove team are back at it, [...]