Flying as a wheelchair user can often feel like an overwhelming and very daunting experience – even for those with more experience, navigating a post Covid world of flying is going to be a challenge. ableMove Founder, Josh Wintersgill, with 27 years of flying experience as a wheelchair user and well renowned expert in the field, shares his five top tips to help manage your flying experience as a wheelchair user and have the best journey possible.
Tip 1 – Do your research on the individual airline and their accessibility:
Consider which airline is best suited for your needs: All airlines will vary in what they can offer you as a wheelchair user, and it is so important to choose the right airline to suit your needs. Don't assume there will be a universal conformity across all airlines, there isn't!
Medical equipment check – depending on where you live and what route you're travelling, this may limit your selection of airlines. In Europe, for example, you are entitled to fly with two pieces of medical equipment, such as a wheelchair and a shower chair. Over that and airlines can charge you for carriage. If you need specific medication, oxygen, liquids, or other equipment on board, you will need to speak with the airline directly as they each have different policies. If you are flying with a powered wheelchair, it is best to check whether your wheelchair will fit within the hold of an aircraft. On much smaller aircraft, you may have to fold the wheelchair backrest down to work. So be prepared and check. It is also a good idea to provide instructions on your wheelchair on how to disengage to manual and put back into powered mode, and also where best to lift the wheelchair.
Selecting a seat – it is always a good idea to understand the different class types of seating available on your flight. Think about how accessible the seating is for you in terms of getting on and off and how close is it to the toilets. Many airlines allow you to select your seats during the booking process although bear in mind that many do not show what seats are and are not accessible. Almost all aircraft seats now after the first three or four rows have foldable armrests, allowing easier access. Airlines will not allow you to sit near an emergency exit so avoid booking these to save a potentially embarrassing conversation. You may be able to reserve the extra legroom seats though, giving even more space for transferring. I suggest picking the middle seat; cabin crew don't like wheelchair users sitting in an aisle seat, and the window seat from a transferring perspective can make it super challenging to get in and out of.
Always book your assistance with the airline and airports at least 48 hours before travel – otherwise, you may not get the full service you need. Usually, you can request this through the booking process, but if you have specific requirements, reach out to the departing and arriving airport to let them know what you require. There are no globalised standards in supporting wheelchair users when flying, so it can be very hit and miss depending on which airport and airline you are using, and a lot of ground staff won't have had any kind of formal training in transferring wheelchair users, so it really is important to have these conversations ahead of your departure so you can be very clear about your specific needs and the ground and flight crew can have that crucial time to prepare.
Tip 2 – Identifying how you are going to manage to the toilet: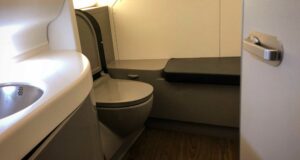 A survey recently conducted (Go here to read the survery) by ourselves in partnership with Flying Disabled  found that 62% of wheelchair users have to dehydrate or starve themselves before flying in order to prevent the need to access the toilet.
Many airports do not yet have changing places toilets, meaning individuals may not be able to go to the bathroom before departure or on arrival. In addition, aircraft toilets are not 'truly' accessible and exclude many from using them. So when it comes to managing the need to use the toilet on board the aircraft, many folks might perhaps use a catheter. Some might be able to transfer to the toilet; others may even use adult nappies. But if you can, there are fantastic mini wee bottles (both male and female) on the market; however, Josh's favourite is the Uribag, which is small, convenient, discreet, and easy to use. Whatever solution is right for you though, make sure you figure it out ahead of time, and do not take for granted that there will be accessible facilities on all stages of your journey.
Tip 3 – Never be afraid to ask for extra help at the airport:
You've made your request for assistance during the booking process so all sorted, right? Absolutely not – be prepared to repeat your information at the airport and again on board – you may want to note down any key bits, such as wheelchair dimensions. This is particularly useful if trying to communicate in a different language. Have you requested any equipment to help with boarding? If so, make sure you are clear to special assistance once both groundside and airside. Never be afraid to ask for extra help on the day if you need it, and do not ever feel pressured to do something that makes you feel uncomfortable. Ensure you arrive in plenty of time (usually 2.5 hours before flight time). Please do not leave it any later; otherwise, you may not get the quality of service you might expect and need.
Tip 4 – Ensure your wheelchair is flight-ready:
Manual: Manual wheelchairs are generally easier to collapse and are often far lighter than a powered chair. The common misconception is that only powered wheelchairs break. Manual wheelchairs also break extremely easily when being handled because they are that much lighter. Ensure any removable parts that are important are removed and ask the cabin crew to bring those parts onboard. There are bags on the market designed for aviation to place your manual wheelchair in to help protect it; you can check out a wheelchair flight bag here. 
Powered: In our recent survey, 60% of people have experienced having their wheelchairs damaged. Often this is due to turbulence in the cabin or simply the chair having to be lifted by people into the aircraft and subsequently being damaged. Some simple tricks include removing critical parts like the joystick control unit and taking this on board, folding the chair down, taking off foot and armrests, and then wrapping it up with bungee cords. In addition, it is good to have laminated instructions on how to engage and disengage the battery and critical lifting points to prevent lifting from parts that are highly likely to break. Picture diagrams are even better here as will transcend any language barriers.
Tip 5 – Purchase your own transferring sling (if you cannot transfer yourself):
Many airports and airlines across the globe still do not have any transferring equipment to help transfer a wheelchair user from their chair to an aisle chair and then to the aircraft seat in a safe, dignified and comfortable manner. Our recent survey highlighted that 53% of people didn't know transferring equipment existed, and only 23% reported having used a piece of transferring equipment. Many wheelchair users also overlook how they may get off an aircraft in an emergency. So rather than relying on the industry to facilitate transferring equipment, we recommend purchasing your own transferring sling – you can check out our ableSling range here.
Purchasing your equipment prevents the need to research and book equipment with airports, no physical touching of airport staff when inserting other equipment under you and it creates a simplified, dignified and safer boarding experience, gives an emergency evacuation option and continuity, knowing you're able to transfer on and off an aircraft anywhere in the world in the same manner. If you are unsure what equipment you might need, do reach out and talk to us.