Exploring new possibilities
A quick message from our Founder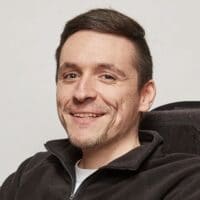 Here at ableMove, we believe in improving day-to-day living for wheelchair users. We do this by promoting greater confidence, freedom, choice and safety in everything we do.
What we do and how we do it
Ever wondered what wheelchair users go through when travelling by air?
Watch our initial 2-minute video in partnership with Flying Disabled and after explore how our range of award winning products are improving air travel for wheelchair users around the world.
Testimonals
Jade Verlander
2022-05-25
Easy to order, quick delivery and great products
Crescent Hideaway
2022-04-22
I bought an Ablemove Towel for my guests to use with our accessible hot tub. The delivery was very prompt and our guests have said that it works brilliantly. Well done Josh. Tina xx
Fantastic product perfect for our daughter. Great customer service and delivery. Would definitely recommend buying from able move. Thanks for the lovely product 😊
Val "Mumbles" Mullen
2022-03-10
These are amazing ! Discovered them by chance and are perfect for keeping not only my daughter warm after swimming, but stop her disabilities buggy from getting soaked. They roll up small enough to fit under the buggy. Highly recommend.
Great equipment able move blanket for the swimming pool or shower is a great asset. Keeping everything clean and dry. Also very warm after getting out of cold water
Duncan Edwards
2021-09-23
Really pleased with the AbleDry. Makes a big difference.
Patricia Partington
2021-08-13
Extremely quick delivery, ordered it one afternoon and it was with us next day! My daughter hasn't used it yet (a present).
AbleMove were brilliant in advising us on which sling would be the best for our daughter. The Able sling light works great for us where a hoist is unavailable. A great quality product. Thanks.
kerry worthington
2021-07-13
Absolutely love our AbleDry, fits perfectly! Great for keeping the chair dry after getting out of the hot tub or bath!
Great quality, made life so much easier after a swim or kayaking. I lay it over my chair keeping it 100% dry. It's very comfortable and surprisingly warm. No more damp cushions. I've also used it as a picnic blanket; it's so versatile! I'm very pleased with my ableDry.
I recently purchased the ableSling for a flight. I am a wheelchair user and had avoided flying for two years due to injuries arising from manual transfers. The ableSling worked very well. The transfers were smooth and the sling eliminated the risk of injury to me. I have bought other products in the past but none have worked as well. I would strongly recommend this product and I'm now looking forward to my next flight with the ableSling.
A revolution in air travel for disabled people! I have been paralysed from the neck down for 39 years. When I was younger it was possible to lift me with just my arms and legs – this became painful over time, but now I have found the answer – unless you try it, you will not believe how fantastic it is – the ableSling is a revolution in design and technology for disabled people.
We are so pleased with our ableSling. We used it to transfer in and out of a beach wheelchair and it was so quick, easy and above all, safe. It has been in the sea and dried out perfectly – enabling our son to have a day at the beach that otherwise would have been too difficult. What a great product.
ableSling is incredible. I've used it to fly to competitions when competing for Team GB in Boccia. I can honestly say I've never been comfier on a flight. I would usually get lower back pain and increased muscle tone when flying due to the lack of seat support but not with the ableSling. I felt comfortable through all transfers. If you are indecisive about whether to invest in one, I can highly recommend it.
Latest News
ableMove Founder Josh Wintersgill recently flew to Tenerife from Bristol airport. The contradictions in Josh's experience at both airports were [...]
Manon Van Den Hueval is an ableMove ambassador, based in The Netherlands and has been using ableMove products since Josh [...]
Just back from an incredibly busy Kidz to Adultz North exhibition in Liverpool, the ableMove team are back at it, [...]