Just back from an incredibly busy Kidz to Adultz North exhibition in Liverpool, the ableMove team are back at it, busier than ever and ready gearing up for what is looking like an even busier 2022, as the ableMove range of products proved to be a huge hit at last week's exhibition.
It is so exciting to be out and about again after nearly two long years of Covid restrictions meaning no live events, conferences and exhibitions, and we cannot tell you just how much we have missed meeting all our lovely customers and seeing and hearing first hand, how much of a difference our products are making to day to day living for wheelchair users, around the UK and globally.
Our sell our product of the day was our ableDry, and you lovely lot are loving our two new colours, and couldn't wait to stop by and see the ableDry's in all their magnificent pink and orange glory!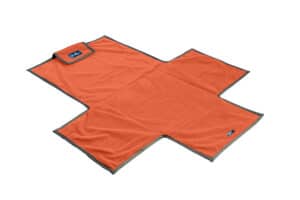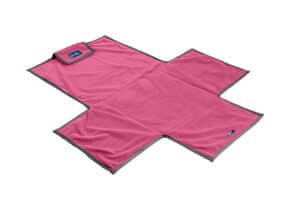 We know a lot of you still love the traditional colours we have in stock too, and we made sure we brought plenty of these with us, and we are incredibly pleased to say, we came home with a lot fewer than we arrived with!
One of the best things about exhibiting at shows like Kidz to Adultz North is that we get to meet so many new people and hear, first hand, your stories and this really helps us understand what products are needed and wanted for wheelchair users. Kidz to Adultz gave all the ableMove team a chance to meet children of all ages who are wheelchair users, as well as their parents and carers and listen to your stories. We loved hearing how the ableDry's have made life so much easier and more comfortable for children and young people, and how hydrotherapy sessions are now so much more manageable and fun, with the ableDry eliminating the need for stacks of damp towels and complicated, multi person, two or three stage transfers in and out of the pool.
We know how important hydrotherapy is for so many wheelchair users, and our Founder Josh, avidly looks forward to his weekly hydro sessions, but we also know how tricky it can be when transferring back into your wheelchair, to avoid the problem of damp seats and cushions, which in this arctic like weather we are currently having here in the UK, is even more unpleasant and for many wheelchair users, can have real health implications.
We met a lot of OT's at this year's show, some we already count as friends, and some we hadn't met before, but we loved chatting with every single one of you and every single conversation we have with an OT leaves us coming away a bit more knowledgeable than when we started. These professionals are on the ground, everyday, working with wheelchair users and their families and carers, and it is these conversations that always seem to spark a new idea for a product to join the ableMove range.
We can't sign off without mentioning all the other wonderful exhibitors at this year's Kidz to Adultz North. Josh, Lorraine and Lizzie spent a lot of time chatting with our colleagues and friends, and we know from these conversations that next year is shaping up to be an incredibly busy one for ableMove. Special thanks to Caron at Bealies Adaptive Wear for teaching us everything she knows about adaptive clothing and Dave and Sharon at Grainge Villa Holidays for their ongoing support of ableMove and our products.
There was still a small amount of time for the team to let our hair down too, and enjoy the beautiful city of Liverpool and it's gorgeous Albert Dock.